AF LeSyTex Machine
The fabric evolution.
Born to export the endless range of AEFFE articles also in the textile and synthetic areas. The newest jewel in the AEFFE MACHINERY home arises from the desire to renew and upset the sector of textile and synthetic material.
By popular request and in accordance to the exigencies of our customers, it's born the new AF LeSyTex (Leather/Synthetic/Textile): a machine even faster and stronger for the processing of the fabric and synthetic material. Available in sizes 1800mm and 1600mm, this machinery is created in three different models: PERFORATION, SNAKE and MULTIFUNCTION. A new opportunity to expand the already existing infinite range of articles practicable with the models for the processing of the leather.
---
In addition to his famous predecessors already using the recycled paper rolls, this machinery is supported by an incoming unwinder carriage and an output winder carriage to facilitate the use of the rolls of fabric and synthetic material. Furthermore, two brackets for the roll of Nylon are fixed both on the workbench and on the brackets of paper roll on the back of the machine. There are two types of lines of the carriages for the material rolls: the first one is a separate line, where the carriages have their own electrical control panel and this allows the use of the same with other similar machineries; the second one is a computerized line, where both carriages are directly controlled by the touch screen of the machine.
By request of the customer, the perforating model is achievable with or without the Factotum System, while for all three versions is available the heated head to permit the application foil or hot printing. By this new machine also synthetic materials and the fabric will finally have their scale.
The name "LeSyTex" is because of this machine model is designed for any type of material: Leather, which sheep and cow skins, crusts, half calves etc., Synthetic material, which acrylic, PVC, polyurethane, polyester, foam etc., Textile, which Jersey, cotton, wool, velvet, felt etc.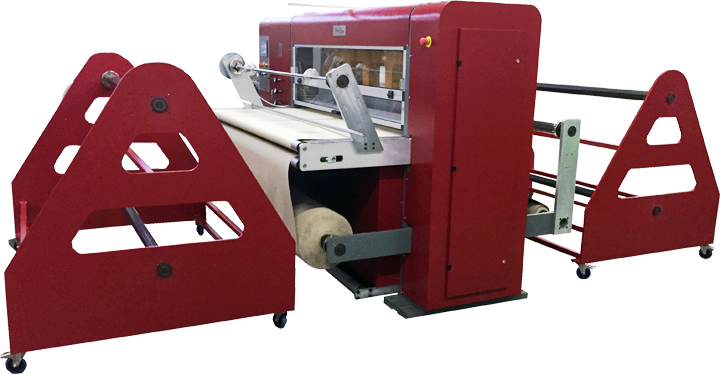 ---
Example of custom leather with this machine:
---